Below is an example of a python column provider for nautilus.
Identifying poor quality video files 480p, 720p … is difficult in nautilus at a glance.
You need to open the file properties to view the video metadata.
While there are a number of extensions out there for EXIF etc, i decided to implement my own.
Originally i tried to use MediaInfo, but it was far too slow. This is what i ended up with.
To activate it, just login and logout, or kill nautilus and restart it.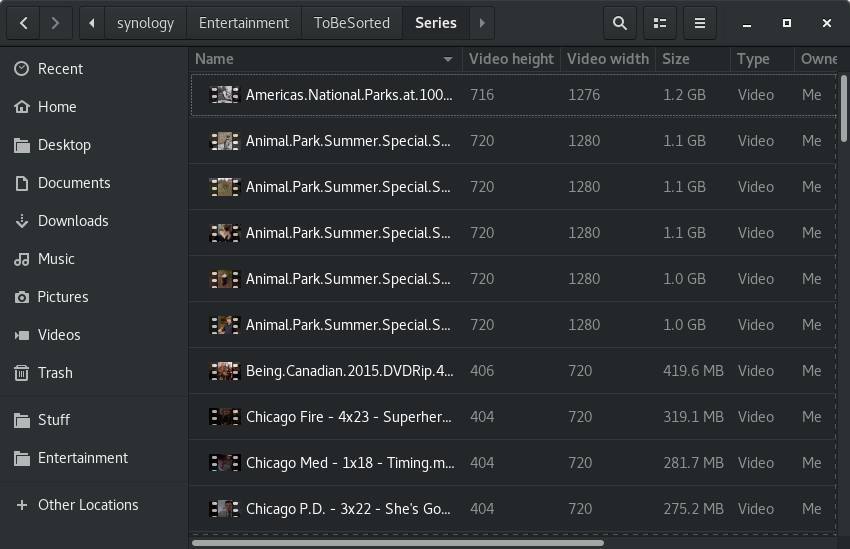 Create target directory and file
mkdir

-

vp

~

/

.local

/

share

/

nautilus

-

python

/

extensions

touch

~

/

.local

/

share

/

nautilus

-

python

/

extensions

/

VideoMetaData

.py
Install python libraries
pip

install

hachoir

-

metadata

pip

install

hachoir

-

parser
Add this to ~/.local/share/nautilus-python/extensions/VideoMetaData.py
1

2

3

4

5

6

7

8

9

10

11

12

13

14

15

16

17

18

19

20

21

22

23

24

25

26

27

28

29

30

31

32

33

34

35

36

37

38

39

40

41

42

43

44

45

46

47

48

49

50

51

52

53

54

55

56

57

58

59

60

61

62

63

64

65

66

67

68

69

70

71

72

73

74

75

76

77

78

79

80

81

82

83

84

85

86

87

88

89

90

91

92

93

94

95

96

97

98

99

100

101

102

103

104

105

106

107

108

109

110

111

112

113

114

115

116

117

118

119

120

121

122

123

124

125

126

127

128

gi

.

require_version

(

'Nautilus'

,

'3.0'

)

gi

.

require_version

(

'Gtk'

,

'3.0'

)

from

gi

.

repository

import

Nautilus

,

GObject

,

Gtk

,

Gdk

,

GdkPixbuf

from

hachoir_core

.

error

import

HachoirError

from

hachoir_core

.

stream

import

InputIOStream

from

hachoir_parser

import

guessParser

from

hachoir_metadata

import

extractMetadata

class

VideoMetadataExtension

(

GObject

.

GObject

,

Nautilus

.

ColumnProvider

,

Nautilus

.

MenuProvider

,

Nautilus

.

InfoProvider

)

:

logging

.

basicConfig

(

filename

=

'/tmp/VideoMetadataExtension.log'

,

level

=

logging

.

DEBUG

)

Nautilus

.

Column

(

name

=

"NautilusPython::video_width_columnn"

,

attribute

=

"video_width"

,

label

=

"Width"

,

description

=

"Video width"

)

,

Nautilus

.

Column

(

name

=

"NautilusPython::video_height_columnn"

,

attribute

=

"video_height"

,

label

=

"Height"

,

description

=

"Video height"

)

,

def

update_file_info_full

(

self

,

provider

,

handle

,

closure

,

file_info

)

:

filename

=

urllib

.

unquote

(

file_info

.

get_uri

(

)

[

7

:

]

)

file_info

.

add_string_attribute

(

'video_width'

,

video_width

)

file_info

.

add_string_attribute

(

'video_height'

,

video_height

)

file_info

.

add_string_attribute

(

'name_suggestion'

,

name_suggestion

)

if

file_info

.

get_uri_scheme

(

)

!

=

'file'

:

logging

.

debug

(

"Skipped: "

+

filename

)

return

Nautilus

.

OperationResult

.

COMPLETE

if

file_info

.

is_mime_type

(

mime

)

:

GObject

.

idle_add

(

self

.

get_video_metadata

,

provider

,

handle

,

closure

,

file_info

)

logging

.

debug

(

"in Progress: "

+

filename

)

return

Nautilus

.

OperationResult

.

IN_PROGRESS

logging

.

debug

(

"Skipped: "

+

filename

)

return

Nautilus

.

OperationResult

.

COMPLETE

def

get_video_metadata

(

self

,

provider

,

handle

,

closure

,

file_info

)

:

filename

=

urllib

.

unquote

(

file_info

.

get_uri

(

)

[

7

:

]

)

filelike

=

open

(

filename

,

"rw+"

)

except

(

AttributeError

,

IOError

)

:

logging

.

debug

(

"Unabled to read: "

+

filename

)

Nautilus

.

info_provider_update_complete_invoke

(

closure

,

provider

,

handle

,

Nautilus

.

OperationResult

.

FAILED

)

stream

=

InputIOStream

(

filelike

,

None

,

tags

=

[

]

)

parser

=

guessParser

(

stream

)

logging

.

debug

(

"Unabled to determine parser: "

+

filename

)

Nautilus

.

info_provider_update_complete_invoke

(

closure

,

provider

,

handle

,

Nautilus

.

OperationResult

.

FAILED

)

metadata

=

extractMetadata

(

parser

)

logging

.

debug

(

"Unabled to extract metadata: "

+

filename

)

Nautilus

.

info_provider_update_complete_invoke

(

closure

,

provider

,

handle

,

Nautilus

.

OperationResult

.

FAILED

)

logging

.

debug

(

"Metadata None: "

+

filename

)

Nautilus

.

info_provider_update_complete_invoke

(

closure

,

provider

,

handle

,

Nautilus

.

OperationResult

.

FAILED

)

matchObj

=

re

.

search

(

r

'Image width: (.*?) pixels'

,

str

(

metadata

)

,

re

.

M

|

re

.

I

)

video_width

=

matchObj

.

group

(

1

)

matchObj

=

re

.

search

(

r

'Image height: (.*?) pixels'

,

str

(

metadata

)

,

re

.

M

|

re

.

I

)

video_height

=

matchObj

.

group

(

1

)

file_info

.

add_string_attribute

(

'video_width'

,

video_width

)

file_info

.

add_string_attribute

(

'video_height'

,

video_height

)

file_info

.

add_string_attribute

(

'name_suggestion'

,

name_suggestion

)

logging

.

debug

(

"Completed: "

+

filename

)

file_info

.

invalidate_extension_info

(

)

Nautilus

.

info_provider_update_complete_invoke

(

closure

,

provider

,

handle

,

Nautilus

.

OperationResult

.

COMPLETE

)